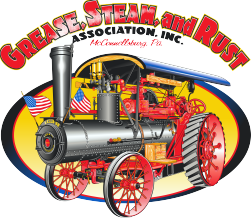 Pumpkin Contest
Fulton Fall Folk Festival (FFFF) Pumpkin Contest; coordinated by the Grease Steam & Rust Association
Implemented – January 2017
Sponsored by: Lyle Mellott, owner of McConnellsburg Motor & Implement Company, 875 Lincoln Way East, McConnellsburg, PA 17233 717-485-3181

McConnellsburg Motor & Implement Company is donating seeds and may be obtained by visiting the company at – 875 Lincoln Way East, McConnellsburg, PA during regular business hours, 8 a.m. to 4:30 p.m.

Each contestant will receive 6 seeds and must provide their name; address, phone number & Email address for future contact at the time the seeds are obtained.
Each contestant must agree to the following in order to participate:
Only seeds obtained through McConnellsburg Motor & Implement can be grown & entered into competition.
Each contestant agrees that when their pumpkin is registered at the FFFF; they will provide a picture taken the last day of each month from the date the seed was planted (whether it be planted indoors or outside) to the date the pumpkin is harvested. These must be colored photos.
All pumpkins must be registered at the FFFF Fairgrounds by noon on the Friday of the FFFF Weekend.
Each contestant may submit up to 4 entries from 6 seeds obtained; however, a contestant will only be awarded 1 cash prize.
• Contestants are encouraged to enter specimens that are perfect and shows no blemishes of any kind, if possible.
• Specimen should be protected from dirt, disease, infection & mechanical damage.
• Pumpkins must be free from dirt and debris before registering.
• Judging to occur on Saturday of the FFFF weekend.
• All registered pumpkins must be removed from the Fairgrounds by 4 p.m. on Sunday of the FFFF. Those not removed will be donated to organizations who will have a use for them
Contact Dave & Carol Morton Tebo, 1424 Cito Road, Big Cove Tannery, PA 17212. 717-666-5678 or 717-873-9359 with any questions.

Pumpkins will be judged on:
• Size & weight
• Appearance (color, cleanliness, uniformity)
Prizes will be awarded as follows:
• $1,000 – 1st place – over 1,000 lbs.
• $400 – 2nd place – 501 – 999 lbs.
• $200 – 3rd place – 201 – 500 lbs.
• $50 – 4th place – 100 – 200 lbs.