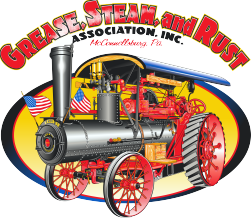 Parade Info
Fulton Fall Folk Festival Parade Oct. 21, 2017
Presented by the Grease Steam and Rust Association
CHANGES TO REGISTRATION PROCEDURES
This year pre entry will be preferred but not required.
We will notify you of your entry via email, or a phone call if you do not have email.
Please be sure to complete the entry form in its entirety to ensure we have all of your information.
If there is anything you would like the announcer to read about your entry, please include it with your registration form.
If something happens you cannot attend the parade that will be ok. We will be holding the parade rain, snow or shine. There will not be assigned spots for the parade lineup. This will be a first in first out line up. If you come early and wait for the parade to start, you will be toward the front. If you come late you will be toward the back.
We will still be mixing tractors and parade entries together as in the past.
Antique cars/trucks/motorcycles – you will be at the beginning of the parade – in order to be judged you must be registered and in the car area location by 9:30 am.
School bands and marching groups or entries with music will be spread apart so you will be the only one heard.
Registration will be at the Fair Grounds for all Engines/Tractors/Machinery/Lawn Mowers displayed at the fairgrounds.
Pre entries should be sent to
GSR Parade Committee
P.O. Box 29
McConnellsburg, Pa. 17233
or send via email to - gsrassociation@gmail.com
Phone Number
717-485-4581 or 717-485-5192
Please fill out this Parade Entry Form to pre register and mail by Friday September 29, 2017.