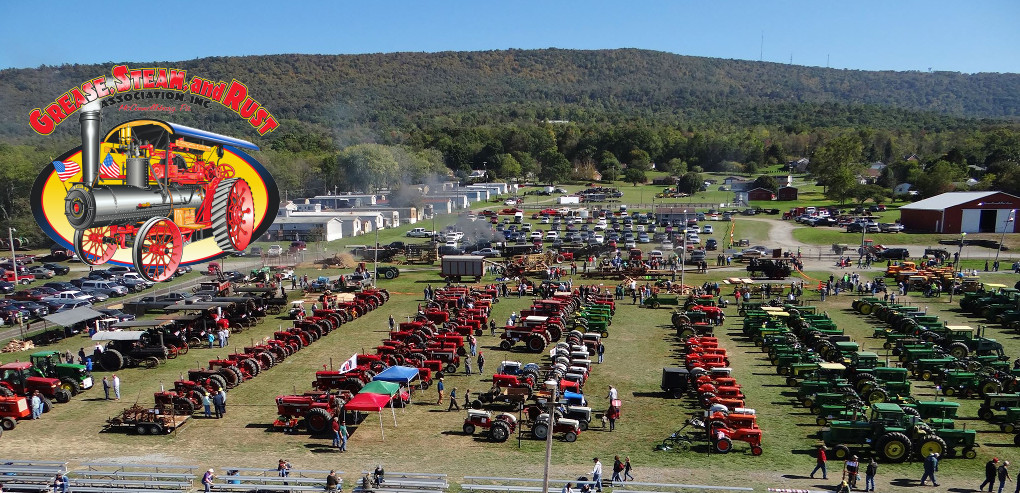 Home
Calendar Preview
Live Facebook Feed
2020 Honorary Member :
Joey Helser
(Front row left to right: Brianna Helser holding Emmalynn, Lori Helser, Joe Helser, Sierra Gordon.
Back row left to right: Cory Helser, Buck Helser, Harry Helser, Janet Helser, Justin Gordon.)
Joe Helser was unanimously selected as the 2021 Futon County Grease Steam and Rust Association (GSRA) Honorary Member of the year. Joey and his younger brother, Buck, started working with the GSR when their father Harry Helser got involved around mid-1990s. Presenting this award to Joe was Russell McLucas one of the founders of the GSR.
Joe is married to Lori Hess Helser and they are the proud parents of Cory and Sierra. They became grandparents to Emmalynn Helser on July 4, 2020. Joey is the son of Harry & Janet Helser of Fort Littleton and Harry was the GSR Honorary Member in 2017
Joe is a tremendous asset to the GSR organization. He works tirelessly to ensure all "To do's" are checked off the list! Joe has taken care of the parade permit for the Fulton Fall Folk Festival Parade since the GSR has been involved with the parade. For many years Joey has been known as the meet and greet person for the scales for the track competitions. He helps ensure the scale is functioning properly and is always willing to lend a hand. Joe has served as GSR President and was show chair for John Deere year. Joe's family all support GSR. His wife Lori is responsible for managing the vendors at the Fairgrounds each year. You can count on Joe to help the vendors get parked and set up.
Joe enjoys tinkering and showing his red 1985 Capri. He has been the proud owner of a John Deere A & B tractors. He and Lori enjoy their Harley Davidson. Joe is an Eagle Scout, an achievement well deserved. Joe loves to cook; you can always find him close to food of some kind. He is best known for his chicken fried deer meat; his sausage gravy and his deer bologna.
Joe has a nickname from his close friends "Britannica Joe" – He can look at a set of tire tracks and tell you which way the vehicle was going, how fast it was traveling, when it was there and if the vehicle had any problems. Here is another quality that few possess – Joey has a keen sense of smell. He can tell you if a vehicle has a problem, what is cooking and if it is ready to eat. His family shared that he is a forensic scientist; in fact, he could probably work for CSI. Joe's kids, family and neighbors could not get away with anything; Joey could figure out what really happened.
Joe is one of those individuals who when he sets his mind to do something; he gets it done.
For all his coworkers on the Turn Pike…he is known as "Belt Buckle". Joe's buckle was a gift from his dad after a hunting trip to Colorado in the late 1970s and Joey has worn it ever since he received it. If you know Joe, you know his belt buckle.
The GSR Membership cannot say enough good things about Joey Helser and the Helser Family. They are committed to the GSR Organization and those of us who have the opportunity to work with them are blessed and privileged.
2020 Pumpkin Contest Results
5 pumpkins were received from 3 separate individuals.

• $500 – 1st place – over 300 lbs. – There were 2 entries; both from Susan Sheffield of McCbg. Pumpkins weighed in at 752 & 544 lbs. Susan's 752 pumpkin won this category with a score of 85 points out of a possible 90.
• $200 – 2nd place – 201 – 299 lbs. – There was 1 entry from Tracy Deneen of Needmore & her pumpkin weighed in at 272 lbs. Tracy's pumpkin scored 72.5 points out of a possible 90.
• $100 – 3rd place – 101 – 200 lbs. There was 1 entry from Tracy Deneen & her pumpkin weighed in at 132 lbs. This pumpkin scored 85 points out of a possible 90. Rules state – A contestant may submit up to 4 entries from 6 seeds obtained; however, a contestant will be awarded 1 cash price; therefore, there will be no pay out for this category.
• $50 – 4th place – 50 – 100 lbs. There was 1 entry from Ralph Schriever of Warfordsburg & his pumpkin weighted in at 97.6 lbs. This pumpkin scored 80 points out of a possible 90.
A sincere thank you to John Johnston of McConnellsburg for serving as our judge.
Growing a large pumpkin like these takes time, energy & focus. Just ask the Sheffield's. Norman & Susan are into their 2nd year of growing big pumpkins. In September Norman Sheffield competed in the 2020 PA Giant Pumpkin Growers Association Weigh off in Northern Cambria, PA., you may remember seeing this accomplishment in the Fulton County News. His pumpkin weighted in at 915 ½ lbs. and he was beaten by an 1,883 ½ lb. pumpkin. Per Sheffield – get out there & try to grow a pumpkin. He feels success begins with: Having a good soil sample of where pumpkins are to grow; adequate water; ability to manage bugs and cover when hot are essential to success. In 2020 Norman invested in a John Deere loader tractor so he had the right equipment to move around these monsters.
Tracy Deneen & Father Ralph Schriever are well known in Fulton County for their beautiful gardens; just ask them; growing things gives you a wonderful sense of satisfaction. Just come to the Fulton County Fair and see the vegetables they display. Side note – Tracy also uses a John Deere tractor to move her pumpkins. Way to go John Deere.
These pumpkins will remain on display at McCbg Motor & Implement until Friday, 10/30/2020. Please stop in to view them.
Upcoming Events
All event information can be found on Facebook under Events and on our calendar ===>>
March 27, 2021
GSR Banquet @ Needle In The Haystack LLC 1424 Cito Road Big Cove Tannery PA 17212
$15/ Adult, $7.50/ kids 6 to 12, free/ kids 5 and under.
Contact Joyce Mellott for more information: jomellott@yahoo.com
May 2, 2021
Basket Bingo benefit for Jessica Truax and Brandon Morton @ Needle In The Haystack LLC 1424 Cito Road Big Cove Tannery PA 17212
$25 per ticket doors open @ 12, event starts @1. See Facebook for more information
Contacts:
Taylor Morton at taylorjmorton@yahoo.com
or
Krista Strait at 16kdeshong@gmail.com
June 12, 2021
Steak Dinner, Raffle and Band benefit for Jessica Truax and Brandon Morton @ Needle In The Haystack LLC 1424 Cito Road Big Cove Tannery PA 17212
Doors open @1 pm. meal @ 3-8 pm, band @ 6-9pm.
See Facebook for more information